Our family was part of the Diaspora from Chios of the families who ran the island's political economy following the massacre of 1822, depicted in the famous Eugene Delacroix painting. The history of the Agelastos of Chios is discussed by Georgios Zolotas & Emilia P. Zolota, Christina Agelasto in her 1983 essay and, of course, by Philip Argenti in his 1955 landmark genealogy, Libro d'Oro de la Noblesse de Chio. The origin of the name Agelasto is explored in a 2008 note by Parker Agelasto.


Formerly royalty (with family crest), Agelastos quickly learned how to make a living by becoming merchants and traders, mostly in grains and fabrics. It seemed you weren't an Agelasto if you didn't go bankrupt at least once in your life, as illustrated in this album of documents.


A photo essay of Chios, Greece, ancestral home to the Agelastos. Click on the map of the Kampos to view photos of former Agelasto properties.


W.E. Gladstone and the Negroponte Affair.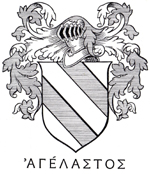 Welcome to our site! - an introduction.


How not to pronounce our name - oral commentary by Athanasios Eumorfopoulos, who discusses the correct and incorrect ways of pronouncing the name Agelasto/Agelastos/Agelastou. Recorded at the Chios reunion, September 2009. You can listen with the Windows Media Player. Our name is frequently misspelled, even in Greek. George Agelastos comments on correcting the name on the Agelasto Street signs in Chios.